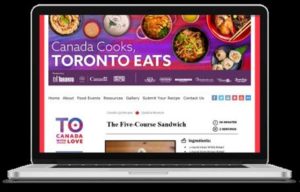 Canada has a unique flavour that differentiates it from all other nations. In Toronto, this essence is best exemplified by the diverse cuisines and unique culinary experiences that have become synonymous with its culture.
As part of the TO Canada with Love program, marking Canada 150, the City of Toronto will host Canada Cooks, Toronto Eats, a participatory celebration of Canadian food culture.
All Canadians are invited to share their most appetizing recipes, interesting culinary and dining traditions, and unique feasting experiences on the City's dedicated blog, torontoeats150.tumblr.com.
Participants can also submit their recipes in person at any of Toronto's History Museums, before or after discovering some of the incredible stories and stunning artifacts that illustrate the city's history.
In addition to having their recipes memorialized on the blog, some lucky participants will have their entries published in an electronic cookbook, making Canada Cooks, Toronto Eats the perfect opportunity to share and preserve those special family recipes for generations to come.
As the icing on the cake, the City of Toronto is offering all Canadians the opportunity to taste the country's rich heritage food for free. On the weekend of November 4 and 5, drop by any participating museum site to enjoy samples of recipes from the blog, live cooking demonstrations, and presentations. Each site will feature a different theme inspired by the museum's historical time period and surrounding communities.
Keep an eye on the Canada Cooks, Toronto Eats blog for recipe submissions, information about downloading the e-cookbook, and the November food-themed weekend event.
Until then, bon appetit!
A version of this article originally appeared in the City of Toronto's fall/winter 2017 edition of Toronto History Museums magazine.