Toronto's vibrant history is characterized by its historic buildings. As part of the City's TO Canada with Love celebrations, Toronto's iconic historic sites have been captured in the pages of a beautifully rendered colouring book.
The initiative was inspired by artist and cartographer Daniel Rotsztain, a self-proclaimed "urban nerd" but fondly known by the public as The Urban Geographer.
Rotsztain previously drew all 100 branches of the Toronto Public Library in a colouring book project he describes as a "love letter to the library system."
Although his library sketches began as a personal project three years ago, they proved so popular that fans pushed him to produce a trendy adult colouring book. Drawing Toronto's historic sites seemed like a natural next step.
"I have always been interested in historical spaces; they may be old, but they're very much alive," he explains.
Rotsztain's mission was no small feat. From July to early September of last year, he biked across the city and sketched all 95 buildings that comprise Toronto's historic sites.
"I was intent on cycling to each site so I could explore the lesser-known boroughs that make up our picturesque city."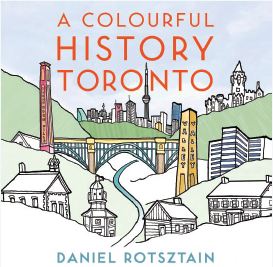 Rotsztain also hopes to teach Torontonians with his colouring book.
"As I conducted research on the project, it was very important to me to delve deeper into the sites' histories and tell the diverse stories associated with the site, not just the ones about the men whose names are in the history books and enshrined on street signs and park benches," he explained.
Visit the gift shops of the Toronto History Museums to pick up your
copy of A Colourful History Toronto, a fabulous Christmas gift for the cultured and creative individuals on your Christmas shopping list.
This article originally appeared in the City of Toronto's fall/winter 2017 edition of Toronto History Museums magazine.