Whenever I hear the N word, I cringe. I actually get a little sick to my stomach.
Networking can be very intimidating, especially when the most social part of my workday as a self-employed writer is that convivial conversation with the Starbucks barista, in which she rambles off my meticulously-customized latte from memory—but can never seem to recall my first name.
Networking in the 6ix
I wasn't looking for a networking event to attend when I discovered Avanti Women online. While doing my due diligence by researching the association's website before applying to fill its vacancy for a volunteer position, I learned (among other things) that Avanti Women was hosting its third-annual career and networking expo in just a few weeks.
A little intrigued, I emailed the info address with some questions about the expo. Within hours, the organization's founder, Dina Barazza, called me back. She not only answered my questions about the expo; she asked me questions about myself and my goals. And then she did something that totally blew my mind: she asked me if I'd like to meet for coffee!
One on one with Dina
We met last Monday evening at my office. Dina was gregarious, genuine and humorous, with a little bit of a potty mouth. We had a few chuckles, and then I asked her to tell me her story.
"When I look back at my career, mainly the in corporate environment, over the last 25 years, it was a struggle," she shared. "I would get home and ask my mother, 'What am I doing wrong?' 'What do I have to do to get noticed?'"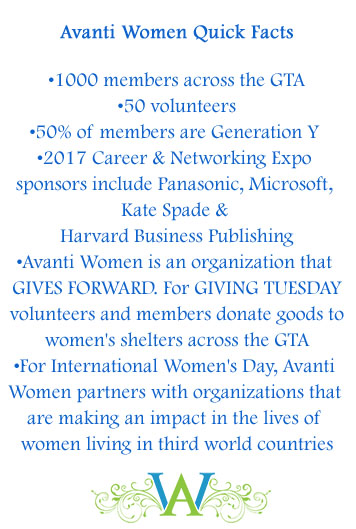 Her mother's response was, "Avanti! Avanti!" which, in Italian, means, "move forward" or "stay positive." But despite Dina's positive attitude, she continued to face rejection and couldn't find the nurturing she needed from her colleagues to help her reach the next steps in her career.
"I realized, OK, I'm going to have to figure this out on my own," Dina continued. "And with that, the Avanti Women's recipe for success was born: networking, mentoring, and learning. All three of those ingredients were critical success factors in my career world."
She and I also discussed my business goals to great lengths, and she was adamant that I can—and must—learn to network to achieve my professional objectives. I later learned, after our meeting, that Dina is widely known by many GTA business professionals as a "networking guru."
Who am I to argue about networking with a guru?
Needless to say I was sold on the value of networking with very little convincing. Dina also reassured me that the first activity of the expo on Saturday morning is a fun networking exercise to break the ice between members. (Phew!)
To find out how I fare at my first networking event of 2017, check my column next week for the good, the bad, and the awesome details.
Visit NETWORKING IN THE 6IX for more details on Avanti Women's Career and Networking Expo, this Saturday, April 1, at Centennial College.
*Special thanks to Avanti Women Founder Dina Barazza and Marketing & Events Manager Mandy Kaur for their contributions to this post.