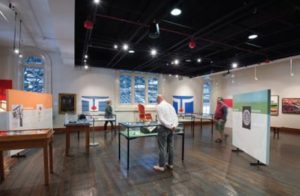 Nestled on the second floor of St. Lawrence Market, overlooking bustling crowds of shoppers, is The Market Gallery. This multi-purpose space occupies what was once Toronto's original 1845 council chamber. Part of a network of municipal museums, The Market Gallery is a treasure trove of artworks collected by the City since the late 19th century.
"We have records that go back that far, starting from about 1855," explained Neil Brochu, supervisor of Collections and Outreach at The Market Gallery.
"When anyone requests artwork from us, either for publication in a catalogue, to display in a civic building or office, or to borrow for another exhibition, we can easily pull those files and usually provide quite a deep historical record related to each piece."
The gallery debuted its collection of more than 2700 works in 1979 to demonstrate Toronto's rich artistic history. A large portion of the collection is comprised of official portraits of mayors and public officials. Also featured are landscapes, streetscapes, and works that capture the spirit of the city.
"Our mandate has always focused on collecting works about Toronto," said Brochu. "Most of the artists are from Toronto and, by and large, the vast majority of pieces depict historical figures or places which document the changes in our city over time."
The top floor of the gallery is devoted to administration and storage, including a work room where the team frames and mats pieces for display, and a purpose-built vault which houses pieces too large or valuable to display in municipal buildings. Also onsite is The Market Kitchen, a special-programming venue.
Currently on display at The Market Gallery until late November is Maple Leaf Forever: Toronto's Take on a National Symbol. It features classic sportswear and Toronto memorabilia, military objects, items crafted for British royalty, and much more. It is presented as part of the City of Toronto's TO Canada with Love program, marking Canada 150, and is funded in part by the Province of Ontario.
For new exhibits, tours, and special events, check toronto.ca/marketgallery for updates.
This article originally appeared in the City of Toronto's fall/winter 2017 edition of Toronto History Museums magazine.